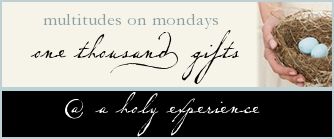 126. an evening at the Christmas tree lighting in our new city.
127. ballerinas who aren't quite sure of the routine
128. a phone call from a friend inviting me out to see a Christmas event.
129. eating candy canes late at night
and
130. Nativity scenes found in grocery stores
Each day as the celebration of the birth of my Lord and Savior draws near I am filled with gratitude by the simplest of things. I just posted over at
Blackpurl's Knitpickings
about our experience Sunday. We went to our first Belizean funeral. And I am still pondering all of the things God is teaching me this year. I am sure that more lessons are yet to come.